History
The Elvis Tunes website started in March 2002 when Doriano, Datcheffe & Taniolo decided to go online with a homepage containing lots of pictures showing the king live on stage, a jumpsuit section and a rough overview of Elvis' concerts between 1969 and 1977.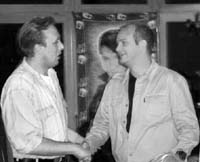 Datcheffe meets Taniolo
The initial design of the Elvis Tunes website was mainly in black, red and gold colours.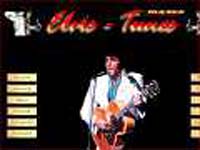 Our first design
In October 2002 we were invited by our good friend Charles, webmaster of the Elvis Club Berlin website, to join the community in linking to the ECB messageboard, especially with a typical Elvis Tune design theme.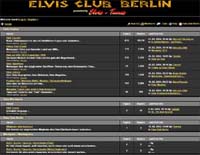 The ECB forum presented by EP Tunes
In December 2002 our design expert and good friend Manhattoe sent us some beautiful alternate and fantasy Elvis cover arts, which we decided to put on our website.The cover section was born.
In the fall of 2003 we decided to re-work our entire website and, in addition to this, to create a completely new design. Supported by Manhattoe, we finally managed to come up with a NEW Elvis Tunes website.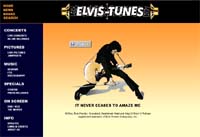 Our new website design
At the beginning of 2004 we decided to co-operate with Tschabo, webmaster of Tschabos World of Elvis Presley, on the topic "Elvis Presley". Go and have a look at his very interesting website and the messageboard in german language.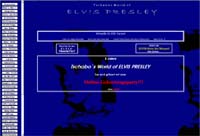 Tschabos World of Elvis Presley
Along with the implementation of the new design, two new members joined the EP Tunes team. The first one was Tigerman, who was former co-webmaster at Elvisonline.de. Apart from his work on Elvis-Tunes, he is planning to come up with another homepage about Elvis Presley,
The second new EP tunes member is Mahony, who is well-known to Elvis fans all over the world because of his former very famous website, "First German Elvis Pages", which was founded in the mid 90s already. Apparently, the "First German Elvis Pages" do no longer exist, yet the webmaster and a lot of its content can be found at EP Tunes.
Mahony is also active in operating the very successful Elvis-Search-Engine Elvis24.de.

www.elvis24.de search engine
In April 2002 we received a beautiful award (shown below), accorded to us by Tschabos World of Elvis Presley and hOwdys Elvis Memory Site. This award motivates us to put even more effort in Elvis-Tunes.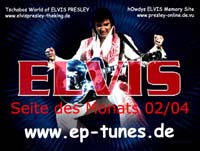 Click the award to show it in full size